70-year-old woman narrowly escapes mob attack
The 70-year-old woman was tied, ready to be lynched by youth in Jentilpe on suspicions of witchcraft.
But for the timely intervention of the Sawla Police, a 70-year-old woman would have been attacked by a mob at Jentilpe, a suburb of the Sawla-Tuna-Kalba district of the Savannah Region.
She had been accused of witchcraft following the untimely death of a young man in the community and was almost lynched.
The youth numbering about a hundred and in the presence of the elders of the community, tied down the old woman in readiness to lynch her, the police quickly moved in and rescued her.
The intervention by police, however, did not go down well with the youth who stoned the police vehicle demanding for her to be released for punishment.
Sawla-Tuna-Kalba District Police Commander, ASP Degraft Armah Adjei who led the team for the rescue mission described the crowd as irate and that, "the people started throwing stones at the car and we even had some dents."
According to him, the command after rescuing the victim went for reinforcement and some 15 suspects were arrested.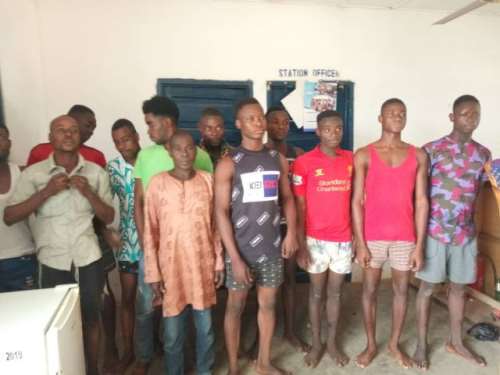 But the chief of Jentilpe, Valglikoor Bangbli disagrees with the youth and elders for their action.
"I was saddened by the news. I have told the elders that next time such an incident happens they should bury the dead, sit down and think about ourselves, and take good care of ourselves instead of behaving in such a manner", he said.
Meanwhile, sources within the Sawla-Tuna-Kalba district, revealed that Jentilpe is known for accusing and manhandling old folks on suspicion of witchcraft.
This time around, a young lady was allegedly possessed by the spirit' of the deceased young man who mentioned names of some people including the victim that killed him hence, the arrest and torture of the 70-year-old woman by some youth of the community.
Meanwhile, residents, particularly men including elders of Jentilpe are on the run as the police are still after them for arrests.